I want to provide credit to Bach Do for the image used in the thumbnail. Links are provided for their Twitter and ArtStation accounts.
Few series persist within our minds as something special. One's interest in entertainment might spawn various mediums, but it does not undercut that special feeling of finding something that resonates deeply. Whether it be its characters or story, its visual style or voice acting, these elements serve to cement memorable experiences that last with us for generations.
Entertainment holds the wondrous capacity to engross us in the universes that its creators manifest. We can escape to new locales with fantastical elements, connect with others going about their day-to-day lives, or lose ourselves in the pure spectacle of action. We erase our surroundings and engage in the adventures depicted on the screen, as if we are careful observers. And when the time comes to return to the routines of our lives, we can reflect upon what we viewed, and perhaps foster poignant memories that shape our understanding of the world.
These experiences are so captivating that it can be easy to forget that other human beings were responsible for their existence, and our appreciation for art extends itself to those who crafted it. Upon realizing that, we develop a sincere respect for the artists that contributed to the production, and wish the best for the people to continue pursuing their creative passions.
Within the medium of Japanese animation, Kyoto Animation, nicknamed KyoAni by its biggest advocates, was held in the highest regard. Known for creating high-quality productions and fostering a "humanitarian" work climate, excitement for the newest show or film from them would often eclipse much of the other productions releasing during its respective season. From the moment they released The Melancholy of Haruhi Suzumiya, to the much-anticipated adaptation of Violet Evergarden, KyoAni never failed to be a trendsetter for the industry, one that poured its heart into all aspects of the productions that came from the studio.
And they paved the way for anime to broaden its horizons beyond the scope that had remained the establishment for years. K-On proved that focusing its efforts on the character dynamics between a charming group of four high school girls could appeal to a wider audience. Free! targeted female audiences as the core demographic in a medium that was once dominated by the shonen genre. This also extended to the work environment that was present at KyoAni. Not only did the studio provide its artists a salary in an industry notorious for its low wages while providing training to aspiring animators, but the studio's talent consisted of a stronger balance between both genders.
All things considered, Kyoto Animation was a leader. A powerfully benevolent force of creative and artistic genius whose productions effortlessly captured the love of people across boundaries. Perhaps they were irresistible in their appeal, but the quality of their work remained genuine and heartfelt.
So when the news broke that a man had ignited the studio with malicious intent, killing thirty-four people and injuring more, the hearts of many immediately sank in horror of the act. Many couldn't fathom the reason anyone would wish harm upon KyoAni, but we were wounded nevertheless.
Initial reports the night before indicated the fire at the studio resulted in no injuries or deaths, so to witness the situation evolve into what is now considered the deadliest massacre in Japan's history after World War II is one of the most alarming experiences I have witnessed online, against a beloved animation studio no less. To even associate KyoAni with arson or massacre is surreal.
Under these circumstances, the temptation to focus on the detestable actions of the arsonist is strong. And given the suspect has confessed to plotting the attack, he will surely be dealt justice. He brought irreversible damage not only to KyoAni (including all of their physical equipment and materials), but most importantly the family and friends of the victims. In the aftermath of the massacre, not all of the victims have been identified, and some individuals are still listed as "missing". It is difficult to imagine the turmoil of those unsure whether their loved ones are alive or gone, and we can only hope that those still missing are found soon.
These feelings have arisen within countless individuals across the world, and that desire to help the victims and maintain the positive legacy of KyoAni has shone through beautifully. A GoFundMe was created by Sentai Filmworks in order to raise funds for the people impacted at the studio, and it has nearly raised a triumphant $1.9 million as of this writing. No amount of money will be able to match up to the worth of the lives that were lost in the fire, but these contributions can hopefully provide a degree of comfort. As noted above, donations continue to be accepted for those interested in providing some support to the studio. It is also possible to directly support the studio through the purchase of digital items on the official storefront.
The various acts of kindness towards KyotAni, be it through a monetary donation or a recount of the fond memories that the studio has provided over the years, are paramount to its legacy, and studio president Hideaki Hatta recently noted in a statement that the messages from across the world are "becoming [their] emotional support". It has been inspiring to view the influx of positive messages directed towards the people that gave KyoAni its creative life, and the productions they created that influenced so many.
Therefore, I feel the need to provide a personal anecdote on the impact that Kyoto Animation left on my life, if only to add to the wealth of positivity that has already been created in support for the studio.
———————————————————————————————————————————
To KyoAni,
When I watched the first episode of Hibike! Euphonium, never did I anticipate that it would be the gateway into a whole new perspective of animation and storytelling. Amidst a stressful year of high school, the series initially provided a haven to escape from it. Yet thirteen episodes later, I became captivated by the budding chemistry between Kumiko and Reina, the various dynamics of the symphony band, and their gradual strides of improvement. It was amongst the most gorgeous productions that I had ever seen, and it ensured that I keep a keen eye on whatever was produced next from your studio.
And I cannot understate how appreciative I am to have a passionate creative force within my life. One of the longstanding patterns within much of your work is an examination of the human condition, and the manners in which the beauties of ordinary life are extenuated through animation. It is therefore no coincidence that so many resonate with your studio's productions; they are filled with a beautiful soul that permeates our hearts. And that beautiful soul was composed of the people that contributed their efforts to crafting memorable, poignant stories. They were deserving not only of widespread acclaim, but artistic and social fulfillment. Whether it was realized or not, there was such an outpouring of love towards the studio that was earned.
Such shows that personally cultivated that great respect aside from the wonderful Hibike! Euphonium were Hyouka and Violet Evergarden.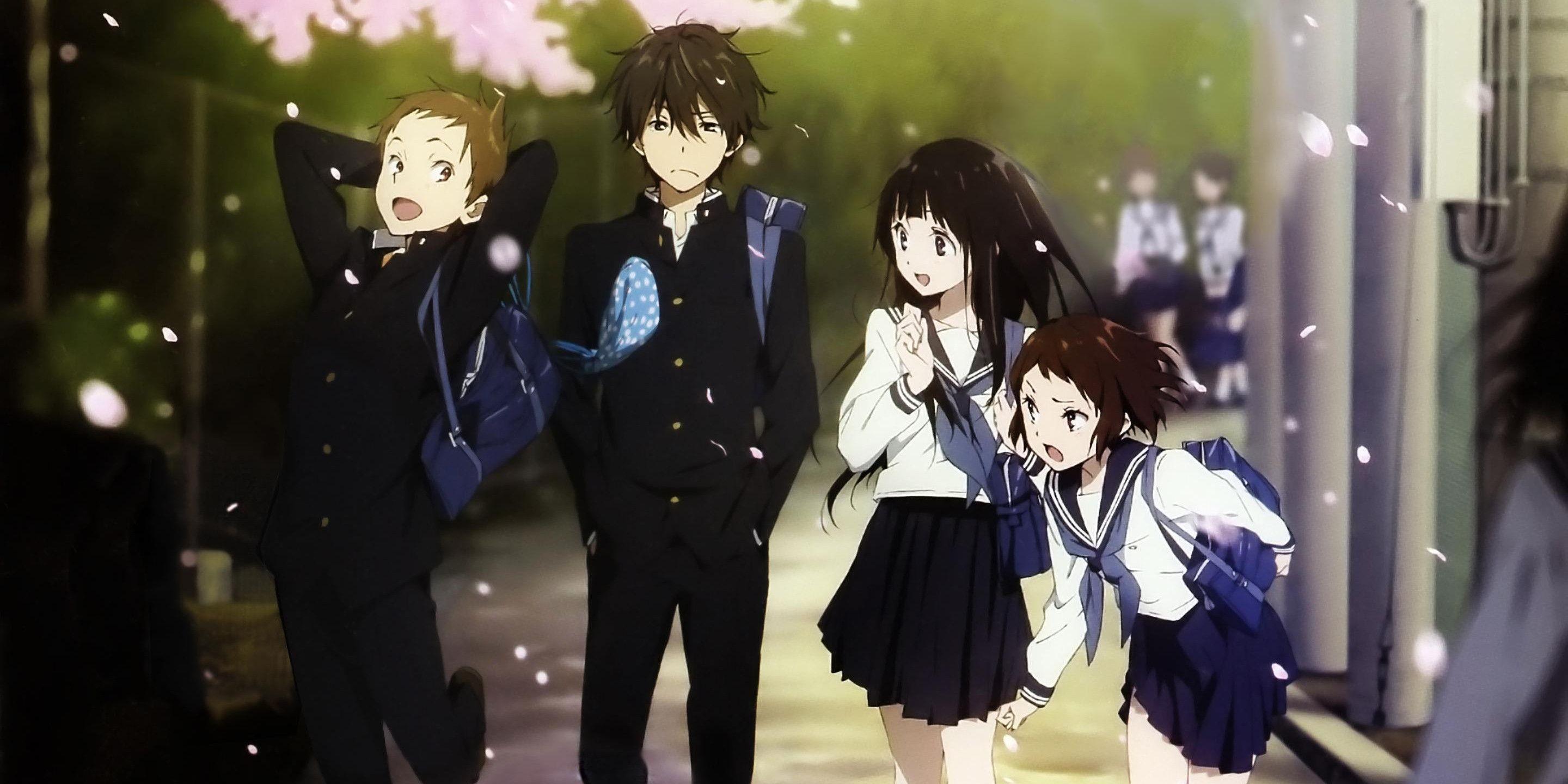 There are two characters within anime that I have resonated with on a deep level, and one of them is Houtarou Oreki from Hyouka. Defined by his apathetic nature and latent intelligence, Oreki embodied a philosophy that nearly described me to a tee: "If I don't have to do it, I won't. If I have to do it, I'll make it quick". Despite the bluntless of his demeanor and rhetoric, a tender kindness rests under the exterior that holds respect for his friends. As he prefers to go through the motions of life in a streamlined fashion, it is difficult for Oreki to sustain interest in the world around him. He voluntarily chooses to remain quiet, maintain a low profile, and follow a routine from day to day. Occasionally his imagination gets the best of his rational mind, but ultimately views the world in an objective manner.
It would not be a stretch to assert that Oreki's personality is a near match of my own, and I feel like I hold an intimate understanding of his life experiences. From my own media consumption, I had not and have not watched any media that portrayed such a character with both sympathy and astuteness, while leaving room for him to grow. When the final episode of Hyouka came to its conclusion, it was so difficult to grasp that Oreki was "moving on", that I would essentially be saying goodbye to someone that I would consider a good friend in real life.
Shortly thereafter, my mind wanders to Violet Evergarden, a fascinating character study that highlights the capacity for writing to bring out the most vulnerable emotions and feelings in others. Waiting for this series to arrive on Netflix at 3:00 in the morning was a bit painful, but watching it through from start to finish that morning was an unforgettable experience. The exceptional production value elevated the stories of the various characters that Violet met to a degree that tugged at each and every heartstring with great strength. No matter the scope, the emotional beats carried the same weight, the same importance. And by the time the ninth and tenth episode rolled around, featuring, the culmination of the series up to those respective points had me literally cry to sleep.
Shows like Violet Evergarden are exceptionally rare, yet it remained another grand production that KyoAni helmed proudly. As a matter of fact, others might consider shows like K-On!, Lucky Star, and The Melancholy of Haruhi Suzumiya, to also be of exceptionally rare quality. And they certainly wouldn't be wrong.
Before I wrap up this message, I want to discuss one more film. A film that not only managed to lead me on an emotional journey that easily installed itself as my favorite animated feature of all time, but reminded me that amidst struggle, there can still be hope at the end of the tunnel.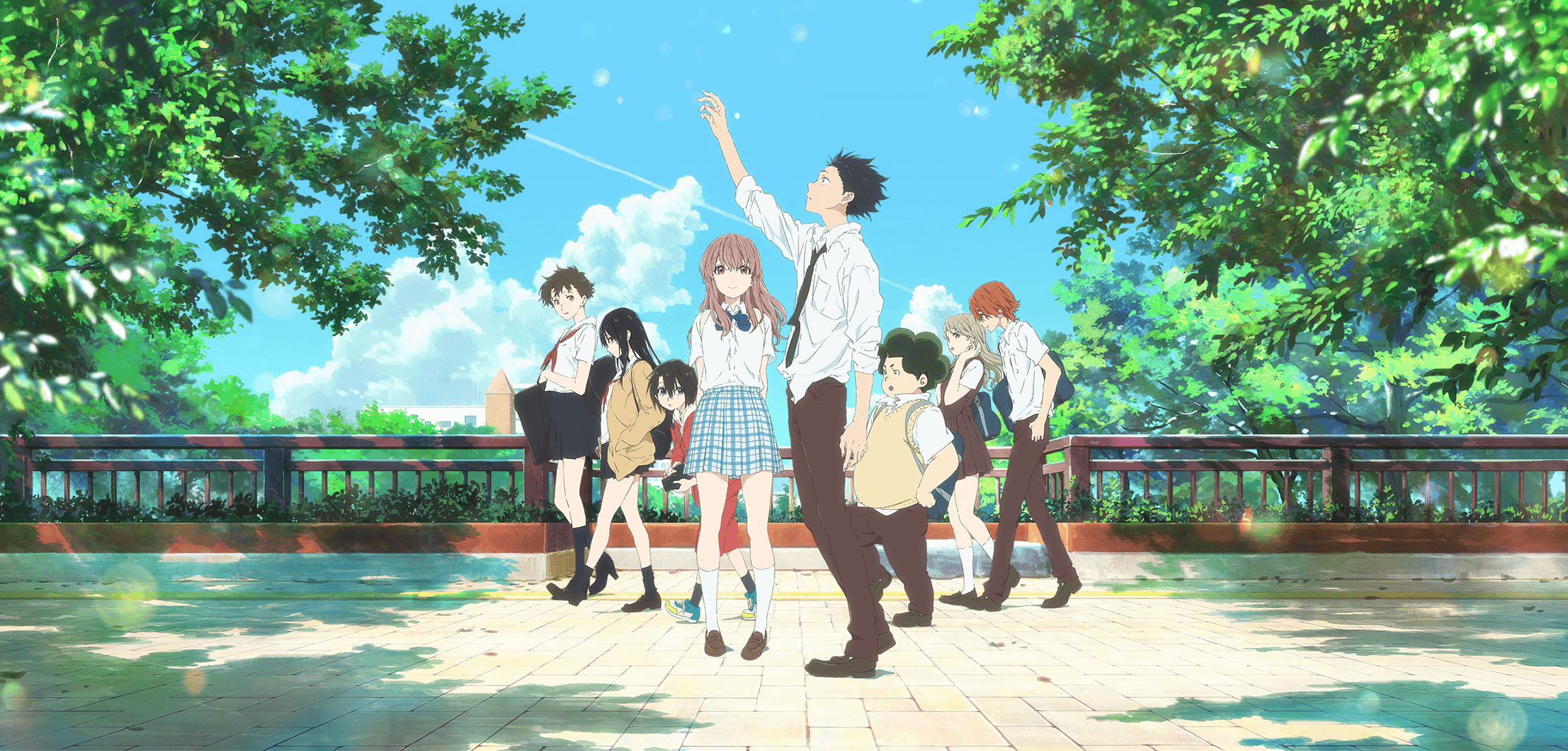 When I went to see A Silent Voice in the movie theatre for the first time, I didn't anticipate that the film would surface some of the most painful memories and reflections of my own life, because Shoya had gone through some of the same motions from childhood into high school. The crippling social anxiety that prompted him to disconnect from his peers, the haunting memories of regret and shame chaining him to the ground, the perceived worthlessness of his actions that sunk him into a deep depression. It was hard to watch certain scenes because of how accurately it portrayed such conditions, paired with my ability to testify to those experiences. For the second time, I had discovered a character that I understood, someone that I knew was wrestling with countless demons uncontent with letting him move forward with his life.
The experience was both heart-wrenching and fulfilling, Unlike any movie before it, I felt as if I had engaged in a conversation with A Silent Voice; the film confronted me with tough scenarios and experiences, and I responded with overwhelming emotion. It reminded me that at the end of the day, I was undoubtedly and emphatically human, at a time where that self-worth was dwindling away with each passing minute.
But something else dawned upon me by the film's end. Outside of the technical aspects of producing animation, to create something with such impeccable direction and vision requires a profound understanding of the human condition. In other words, the people of KyoAni.
The coordinated efforts of the directors and producers, the animators and artists, the voice actors and composers, the writers and editors, and all those responsible in between, resulted in some of the greatest pieces of entertainment, but it also resulted in some of the greatest reflections of human life. Knowing that so many people are no longer with us is even more saddening with this background in mind. Their lives did not deserve to be cut so short, but it doesn't mean that those memories will depart alongside them. In such times, I believe it is important that the victims loved ones have the opportunity to mourn respectfully and privately, but regardless my sympathies are rooted deeply with the family and friends of all those affected.
Much was lost from the fire, but there remains so much to cherish. We can sustain the legacy of the people that formed the lifeblood of KyoAni by honoring their contributions and sharing our fondest memories of their art. They were and will remain the core of the studio that made it unique, and I hold confidence that their legacy will forge ahead, stronger than ever in the presence of a great support system.
So however long it requires, know that the appreciation and respect from around the world towards each and every one of them will never die. For all the beautiful memories that you have created, thank you. Thank you for remaining a constant force for genuine good. The studio's work has changed the lives of so many for the better, and our time to reciprocate is within our hands.
I wish everyone at Kyoto Animation, alongside their family and friends, the absolute best of luck now and beyond.
With best regards and warm wishes,
Kani